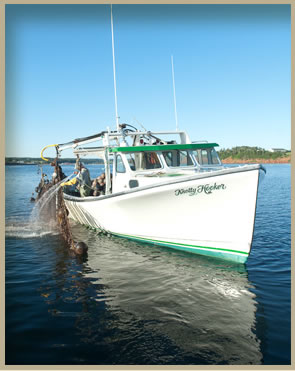 Our Island Company
Shellfish has always been a part of the culture of Prince Edward Island. For decades, it has been a staple in Island kitchens. Generations of growers have nurtured the natural bounty found in local waters and have passed on traditions while meeting the future with a pioneering attitude and strong work ethic. This is the culture from where the ideals of Prince Edward Aqua Farms have their origins.
Growth has been at the core of the company since its inception in 1989. Starting with a handful of concerted individuals in a one-room building in New London, PEI, they expanded rapidly and currently employ more than 65 full-time staff, as well as additional seasonal workers. The loyal and
dedicated staff
are committed to maintaining the highest standards of quality. As well, the plant itself has been renovated and expanded not only to meet market demand, but also to maintain the most current technological and environmentally-sustainable equipment and practices. Prince Edward Aqua Farms has long been recognized for being a modern, innovative and
progressive company
in the shellfish industry whose commitment to freshness and quality has always been their top priority.
Shellfish from Prince Edward Aqua Farms is exported to markets across the globe and have become trademarks unto themselves.
Island Gold blue mussels
, and other selections - oysters, clams, and quahogs are recognized in kitchens and at shellfish festivals across North America and beyond.